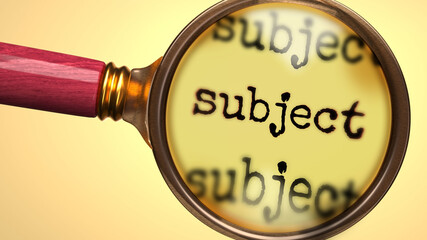 What is a Subject?
Mostly everywhere we read the following statements:
This is a Subject.
A verb is conjugated according to a Subject.
The Subject takes the following position in a sentence.
It is very important to use the correct Subject to decline the verb correctly.
There is no sentence without a Subject.
A Subject is the backbone of a sentence.
And so on…………
For beginners it is very difficult to understand the concept of a subject where it is being conjugated with every verb. We will discuss the different Subjects in German with their meanings.
First of all, it is very important to understand what is a Subject. What is its importance in a sentence. How many Subjects are there and what are their meanings.
A Subject is a noun. It is a person or a thing that is being discussed or that is performing the action.
| | |
| --- | --- |
| Subjects in German | Meanings in English |
| ich (1st person) | I |
| du (2nd person) | you (informal) |
| er (3rd person) | he |
| sie (3rd person) | she |
| es (3rd person) | it |
| wir (plural of ich) | we |
| Sie/ Sie (pl.) ('S' always remains capital irrespective of its position in sentence. It is singular and in plural also it remains same.) | you (formal) |
| ihr (plural of du) | you all |
| sie (plural of 3rd person) | they |
Let's understand each Subject with the help of examples:
Ich bin 15 Jahre alt. (I am 15 years old.)
Bist du Maria? (Are you Maria?)
Er ist ein Arzt. (He is a doctor.)
Sie ist eine Lehrerin. (She is a teacher.)[here 's' of sie is capital because it is at 1st position]
Es ist mir egal. (I don't care.)
Wir sind gesetzlich verpflichtet. (We are bound by law.)
Frau Schmidt, sind Sie verheiratet? (Frau Schmidt, are you married?)
Sie as plural:
Frau Schmidt und Herr Müller, wann heiraten Sie? (Frau Schmidt and Herr Müller , when are you getting married?)
Seid ihr Schüler? (Are you all students?)
Maria und Stefan, sind sie Geschwister? (Maria and Stefan, are they siblings?)
As you can see in these sentences, we have used one verb 'sein' and used it with different subjects. Try to form sentences with each subject using different verbs.