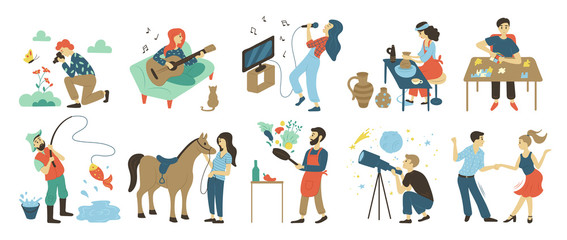 Hobbys (Hobbies)
Everyone has a hobby. It might me writing or just sleeping. Singing or trekking. Hobbies vary from one person to another. There are different people in this world each having a unique hobby. Here, we will discuss some most common hobbies in German.
The question related to Hobby is:
Was ist dein Hobby? – Mein Hobby ist Musik hören.
If you have more than one Hobby, then
Was sind deine Hobbys? – Meine Hobbys sind Einkaufen und essen gehen.
| | | |
| --- | --- | --- |
| Deutsch | English | How to use in a sentence |
| Fernsehen | Watching TV | Mein Hobby ist Fernsehen |
| Roman lesen | Reading Novel | Mein Hobby ist Roman lesen |
| Malen | Painting | Mein Hobby ist Malen |
| Singen | Singing | Mein Hobby ist Singen |
| Kochen | Cooking | Mein Hobby ist Kochen |
| Laufen | Running | Mein Hobby ist Laufen |
| Tanzen | Dancing | Mein Hobby ist Tanzen |
| Musik hören | Listening Music | Mein Hobby ist Musik hören |
| Basteln | Crafting | Mein Hobby ist Basteln |
| Einkaufen | Shopping | Mein Hobby ist Einkaufen |
| ins Kino gehen | To go to cinema | Mein Hobby ist ins Kino gehen |
| Ski fahren | Skiing | Mein Hobby ist Ski fahren |
| Essen gehen | To eat out | Mein Hobby ist essen gehen |
| Wandern | Hiking | Mein Hobby ist Wandern |
| am Computer spielen | To play on Computer | Mein Hobby ist am Computer spielen |
| Reisen | Travelling | Mein Hobby ist Reisen |
| Karten spielen | To play cards | Mein Hobby ist Karten spielen |
| Zeichnen | To draw | Mein Hobby ist Zeichnen |
| Nähen | To sew | Mein Hobby ist Nähen |
| Campen gehen | To go on Camping | Mein Hobby ist Campen gehen |
| Fotografieren | Photography | Mein Hobby ist Fotografieren |
| Fuβball spielen | To play Football | Mein Hobby ist Fuβball spielen |
| Basketball spielen | To play Basketball | Mein Hobby ist Basketball spielen |
| Geschichte schreiben | To write Stories | Mein Hobby ist Geschichte schreiben |
| Schriftstellerei | writing | Mein Hobby ist Schriftstellerei |
| Reiten | Horse riding | Mein Hobby ist Reiten |
| Rätselraten | Puzzle solving | Mein Hobby ist Rätselraten |