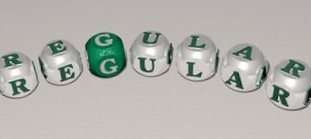 Regular Verben (Regular Verbs)
As explained before in the worksheet of Verbs, Regular verbs are also known as the weak verbs. They follow a particular pattern while conjugating. The 'stem' or the 'root' of the verb is not changed. Only the ending of the verb is changed. That also changes in a followed pattern for each Regular verb. We will see few examples of Regular verbs:
spielen (to play) : spiel + en
spiel is the 'root' or the 'stem'
-en is the ending
While conjugating this verb : spiel will remain at its position and
-en will be changed according to the subject.
Let's look at its conjugation:
| | |
| --- | --- |
| | spielen (to play) |
| ich | spiele |
| du | spielst |
| er/sie/es | spielt |
| wir/Sie | spielen |
| ihr | spielt |
| sie (pl.) | spielen |
With Ich only n is removed and it ends with -e. Ich spiele….
With du -en is removed and the -st is added. Du spielst…..
With the 3rd person, er/sie/es and ihr -en is removed and -t is added. Er/sie/es and ihr spielt……
With Wir/Sie and the plural form (sie) , infinitive form or the full form of the verb is taken. Wir/ Sie/sie(pl.) spielen….
In the same way other regular verbs are conjugated. Let us see few more examples:
| | | | |
| --- | --- | --- | --- |
| | machen (to do) | kaufen (to buy) | lernen (to learn) |
| ich | mache | kaufe | lerne |
| du | machst | kaufst | lernst |
| er/sie/es | macht | kauft | lernt |
| wir | machen | kaufen | lernen |
| Sie | machen | kaufen | lernen |
| ihr | macht | kauft | lernt |
| sie (pl.) | machen | kaufen | lernen |